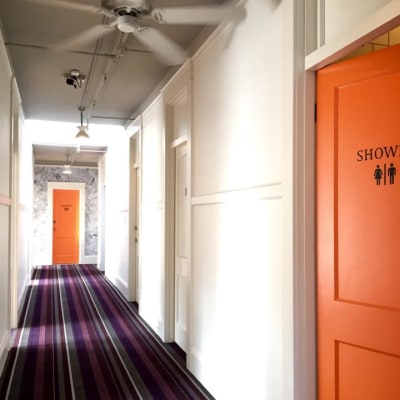 A Little More History
In the fall of 2007 two local Historic building enthusiasts (slightly nuts) purchased the Norblad building whose second floor hotel was operating under the name The Hideaway Inn and Hostel. The reputation was anything but good.
The duo quickly had the old neon sign renovated and proudly displaying the new / original name in electric blue. It was renamed the Norblad Hotel & Hostel.
A local metal shop worked to restore the original and award winning pressed tin awning. The exterior has been completely restored, retail spaces renovated and leased. The 2nd floor hotel has undergone restoration efforts over a three-year period with new marble showers for the Euro styled rooms, a new communal kitchen, and a complete renovation of all 35 rooms.
The hotel remains open as the oldest continually operated hotel in the oldest settlement west of the Rockies.....however it's anything but "old".